Attractiveness and elegance are what our trade show hostesses and hosts has in common.
APT promotional agency is specialized in the areas of event, promotional and employing of trade show staff, exhibition staff in Germany, France, Austria, Switzerland.
We have a nationwide database of promotional staff in Europe. APT agency provide promotional guys or girls over a range of staffing disciplines. We always have great promotional staff to represent your brand. Next time you need promotional or exhibition staff why not give us a call to see our nationwide staffing capability.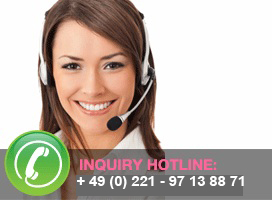 Most of our booth hostesses in germany are multiligual. They are able to provide beside english and german much more other languages like french, spanish, turkish, arabic or chinese.
We will be pleased to inform you in detail about our services and available trade show staff.









Promotional and staffing agency, trade show hostesses agency in Germany
Trade fair hostes, exhibition hostesse, trade show staff, exhibition models
APT agency is promotional and staffing agency based in Cologne. We supply promotional staff across entire Germany, Austria, Switzerland, France and Spain. We offer a range of staffing services including promotional staff, exhibition staff, event staff, promo girls and hospitality staff.
Our customer has different expectations and offer complex tasks. They expect quite a personal and professional service. However, there is one thing that connects them. The trust in the competence of a good promotional agency. We are at your side to be able to quickly meet your individual and specific needs.
We employ qualified and motivated exhibition hostesses and models, trade show hostesses and promotional staff in Germany: Cologne, Essen, Dusseldorf, Berlin, Leipzig, Dresden, Hamnurg, Hannover, Frankfurt, Munich, Nurnberg, Stuttgart. Moreover, we are always prepared to expand our area of deployment throughout entire Germany, France, Switzerland and Spain. Our dedicated team has deep understanding and long experience in the field of fairs, events and promotions. We have a nationwide database of exhibition and promotional staff. Our staff is carefully selected depending on event and goal setting and trained accordingly. As a leading company for booth hostesses, event staff, interpretser and hospitality staff in Germany we are looking forward to a successful business relationship.


Our philosophy
The APT Agency for exhibition models in Germany is certain that more can be achieved together. As a whole – as a team we are bound to make your event into an unforgettable experience.

Together for your successful appearance! – This is our philosophy.

We see our clients and our booth hostesses and booth hosts as partners in a long-term, successful and trustworthy business relationship. We are also positive to be able to contribute greatly with our philosophy to your success at local fairs. Motivated and satisfied associates, qualified and experienced trade show hostesses and trade show hosts guarantee you a smooth fair progress and with that your customer satisfaction. APT Messehostessen promotional agency is at your side for your successful appearance at exhibition stand. Our most important goal is the satisfaction of our clients and our associates.


Our services
As a team we focus on your successful exhibition appearance with all our dedication and competence. The service quality of our associates' work is of great importance for us in order to be able to satisfy your needs as a customer. A friendly, attractive and smart appearance on behalf of our booth hostesses & booth models, our promo girls & expo girls is only natural. Our associates are our capital, they have the best references and excellent communication skills, and they are well educated and can work efficiently in stressful situations. Our hostesses/ hosts speak fluently at least two languages, have quick perception and excel through reliability, punctuality and dedication. Project related trainings help them acquire the understanding of the essential. This way we grant our client a high level of professionalism for a successful exhibition appearance. Our services cover the fairs and exhibitions in Cologne, Düsseldorf and Essen. We are, however, at your side for fairs and exhibitions in all cities of Germany.


Our services at a glance:
- Trade show hostesses and hosts
- Booth Models, boothmodel
- Interpreters, Translators and language service
- Promotional staff, promo girls, model girls, promotion models
- Trade show booth staff, exhibition staff and assistants
- Event staff
- Product demonstrators
- Brand ambassadors
- Staff for conference
- Trade show promo models
- Hospitality staff for events, shows, drinks reception


APT Messehostessen is proud to support you among other on following fairs:
Deubau Essen, GaLaBau 2016, IMM Cologne, BOOT Dusseldorf, ISM Cologne, A+A Dusseldorf, ANUGA, interpack Dusseldorf, Biofach 2016, IAA Hannover 2016, ProWein Dusseldorf, toy fair 2016, gamescom, IAA NFZ Hannover, Drupa 2016, Medica Dusseldorf, BAUMA Munich 2016, CeBIT Hannover 2016, IFA Berlin, Expo Real Munich and much more...